A3 EOS, The Most Compact and Brightest AAA Flashlight Comes.
Versi kami adalah versi UPGRADED....bukan standard. Artinya, dengan versi ini, anda bisa memilihi LOW, MEDIUM atau HIGH untuk berbagai keperluan. Versi standard hanya bisa 1 mode (HIGH) saja.

The A3 EOS R5 is a bright little light, perfect for pocket carry or anywhere else where size and weight matter, but you still want a lot of light. The EOS has now been upgraded to a R5 LED, and still comes in two different versions; standard with one brightness, and upgrade with three brightness's. The A3 promises to be the best AAA powered LED flashlight on the market and is an incredible value! Features and Specifications:
Cree R5 LED, life span up to 50,000 hours
Operating voltage: 0.9V - 3.0V
Uses 1 x AAA, 1 x Rechargeable NiMh AAA, or 1 x 10440 (due to the small body size, 10440 batteries are not recommended since they may cause the light to become hot very quickly). (Batteries not included)
Dimensions: Length: 2.62 in (66.5 mm), Diameter: 0.55 in (14 mm)
Weight: 0.92 oz (26 g) (without batteries and keychain)
Finish: Type III HA Hard Anodizing- Black, Red, Purple, Gold, Blue, or stainless steel or titanium options.
Illumination:

Standard Edition: Single output level ? 96 lumens (55 minutes runtime)
Upgrade Edition: Three output levels - Low 1.8 lumens (50 hours) -> Medium 22 lumens (4 hours) -> High 96 lumens (55 minutes)

Superior heat sink that disperses heat to protect LED and electrical components
Output cycle: Low->Medium->High*, preserves your night vision by starting on low
Orange peel reflector for flawless beam
Mil-spec: MIL-STD-810F
Version: Upgrade Edition (multi-level)
got my new olight i3 yesterday... just a quick visual comparison of the two for those interested...



itp a3 eos on left, new olight i3 on the right

first thing you notice is that the i3 is a few mm longer in the back... this is to accommodate the new clip and so that it can tail stand. no big deal, picture makes it look bigger than it actually is...
I do feel however that they could have implemented the keyring a little better.... if you look at the picture above, notice the angle that the keyring sticks out at... well there is very little movement from this position.. just a few mm of play in either direction... you cant make it stick straight out the back like the a3 eos on the left is almost doing..... this makes it sit on a keychain kinda wierd... they should have just made the two extra little cuts like they did for the illuminati and it would still tailstand and be damn near perfect: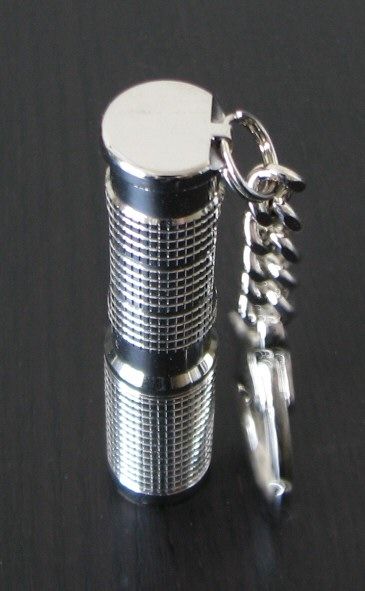 as far as physical robustness... for some reason this little i3 feels better built than its itp a3 brother... my a3 had a little play in the head and would allow you to do the thing where if the head is almost turned on, you could push the whole head assembly towards the body and it would temporarily turn the light on... they must have done some tighter tolerances with the threads on the i3 because now you have to have the head really really close to being on in order for this to happen... the twisty operation feels a LOT smoother than my a3 as well... no stiffness or grittyness at all...




the light has a new clip system built in that uses two tiny allen head screws (comes with the proper wrench) to hold it on.. this clip is TIGHT on there.. almost couldnt get it over a normal jeans pocket... thats a good thing right? i havent taken the clip off yet so i cant give any reviews on ease of removal or anything..




the reflectors are virtually identical and have the same XP-G R5 inside...

with two new energizer ultimate lithiums from two feet away on high:


pretty much identical here as well. tint appeared almost exactly the same.

im not going to do runtime tests, ill leave that to someone else... i was almost to busy to do this post in the first place.