Note: WP6 II Charger will come with a UK/Singapore Plug (3 Pin) (From Xtar, same design except for 3 Pin) instead of the two pin shown in the picture
Charger Set Includes: 1 x Charger, 1 x Box, 1 x UK/Singapore Plug, 6 x Spacers, 1 x Car Adaptor Charger, 1 x Manual, 1 x Warranty Card
Note: WP6 II Charger will come with a UK/Singapore Plug (3 Pin) (From Xtar, same design except for 3 Pin)
Download the user manual for the WP6 II Charger here
6 Channels 10440/14500/14650/16340/17670/18650/18700 XTAR WP6 Battery Charger
* Six independent charging channel for 10440/ 14500/ 14650/ 15270/ 16340/ 17670/ 18650/ 18700 battery
* Algorithm charging system (CC/CV)
* 6 spacers
* Real-time battery monitoring system
* IC temperature monitoring system
* Input: DC 12V 2A
* Constant charge current:600mA ± 10%
* Constant charge Voltage:4.2V ± 1%
* Adaptor input: 110V~240V AC 50/60Hz
* Adaptor output: DC 12V 2000mA
* Operation temperature: 0℃~40℃
* Size(mm): 120 length x 110 width x 36 height
* Net weight: 163g
Notice: The above-mentioned parameters tested in Lab are approximate and may vary between flashlight/charger, batteries and environments.
This charger can charge x6 Li-ion batteries at the same time without affecting charging time. It has 6 separate channels charging at 600mA each. Please note that these are separate channels and not shared ones so if you charge 1 battery it will charge just as quick even if there was 5 other batteries in the charger.

600mA per channel is quick, most other chargers will charge at 500mA per channel or even 250mA on chargers that use shared channels.

The charger can charge any of the following Li-ion batteries: 10440 (AAA size) / 14500 (AA Size) / 14650 / 16340 (CR123A Size) / 18650 / 18700. You can mix any size in the charger at the same time. The spacers provided need to be used to charge batteries smaller than 18650 and 18700.

Its important to note that this charger charges Li-ion 3.7v batteries should never be used to charge any lower voltage batteries.The WP6 II is designed with reverse-polarity protection, over/under voltage disconnecting technology, safer, more intelligent and more reliable charger than others on the market.

WP6II is a professional pulse charger designed for Li-ion battery, it can charge six 10440/14500/14650/17670/18650/18700 3.6V/3.7V Li-ion battery simultaneously but independently. It also can apply to 14500 (AA Size), 10440 (AAA Size) and 16340(ICR123A) Li-ion battery when use connectors (spacers).
WP6II' s charging bay from left to right, two bays one group, only one battery in the group is processing CC and CV method while two battery are pulse charging method.It is designed with undervoltage lockout and Algorithm (CC.CV) charging method which can monitor the battery' s status real time and control charging safe automatically. If the battery' s voltage is lower below than 4.2V, WP6II will start charging automatically.
WP6II adopts over and under voltage disconnecting technology which can ensure the battery' s energy will not lose even the input power suddenly cut. It makes the charger safer and more reliable
WP6II has good heat dissipating ability.
WP6II Charger adopts reverse-polarity protection circuit board.
Gross weight: 512g


Charger Xtar WP6 II
This charger was introduced in 2010 and updated in 2011 to the II version. It has 6 channels, i.e. it can do 6 cells independently of each other. The new version of the charger is using another charging algorithm and includes spacers that can be mounted on the plus connection.



The charger is powered from a single 12 volt DC connector, this connector can be powered from either the supplied AC adapter or from a car adapter. The AC adapter I got is a universal voltage adapter (100 - 240 VAC 50/60 Hz) with a plug for European use.
There is a led for each channel, this led will be red when the charger is charging and green at all other times.
| | |
| --- | --- |
| | |
The charger is supplied with spacers that can be mounted on the plus terminal on the charger. Because the spring in the charger is longer than a spacer, it is possible to adapt the charger for any cell that is below 70mm in length.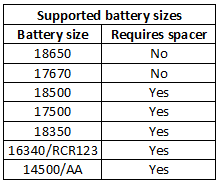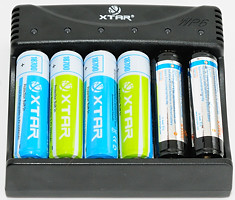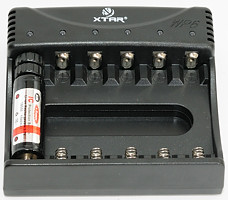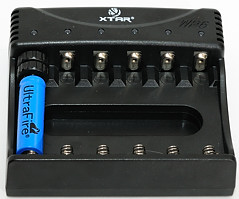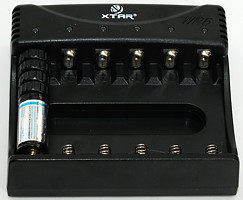 The charger can handle 70 mm long batteries, including flat top cells.



Measurements

Below 1.5 volt the charger does not charge, it discharges with a less that 4 uA.
Between 1.5 and 2.8 volt the charger charges with about 100 mA.
Between 2.8 volt and 4.2 volt the charger is applying regular charge current (See curve below).
When the charge current goes below 150mA the charging is stopped and it will discharges with < 10 uA.
The charger will not restart charging before the battery has been removed or the voltage goes below 1.5 volt.
When charger is disconnected from power, but with a battery in, it will draw below 300uA from the battery.
The channels works in pairs, when using both channels in a pair, the charge current is doubled, but only applied half the time.
The charger switch to dual channel when it needs to charge on both channel, when one battery is full it switches back to single channel mode.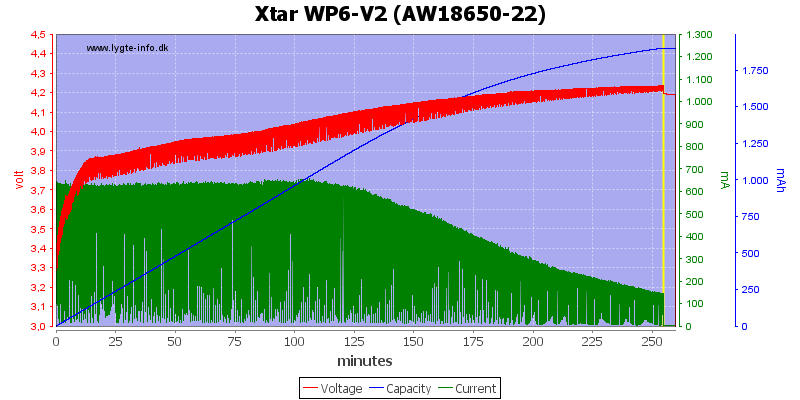 The charge curve looks like a CC/CV charger, and it stops at a rather high charge current. This is not a real problem because the charger measures the voltage with charge current turned off, this means that the charging is not a real CC/CV charging, and the batteries is filled completely, even when the current is turned off at 150mA.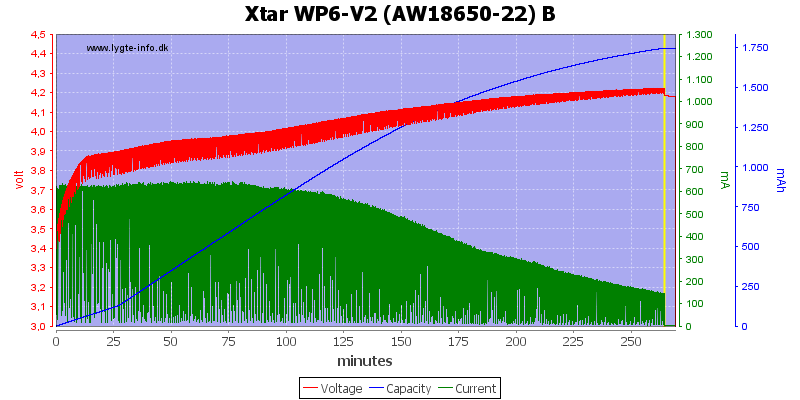 Same battery, but on another channel. There is a good match between the channels.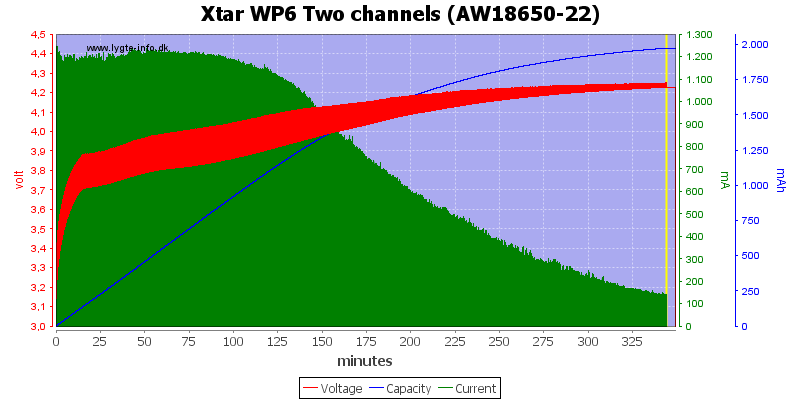 Same battery, and also using the adjacent channel for another battery, the current is doubled, but only applied half the time, i.e. on average same charging current. This increases the charge time!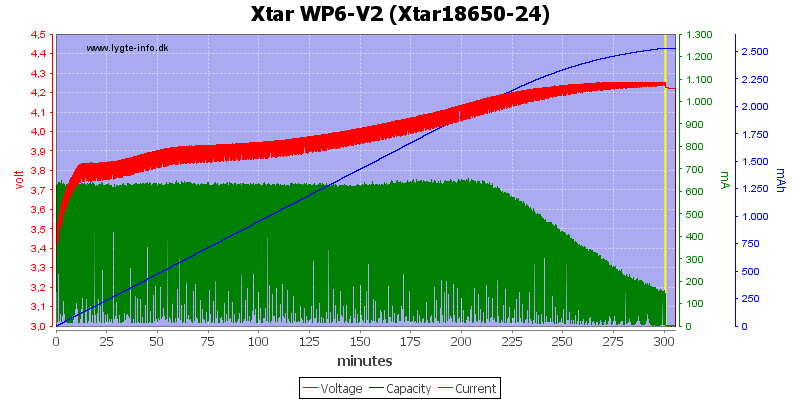 A new LiIon cell with a low internal resistance and marked 2400 mAh. It takes 5 hours to charge this cell and with six channel it is possible to charge up to six cells in under 7 hours (3 cells can be done in 5 hours) .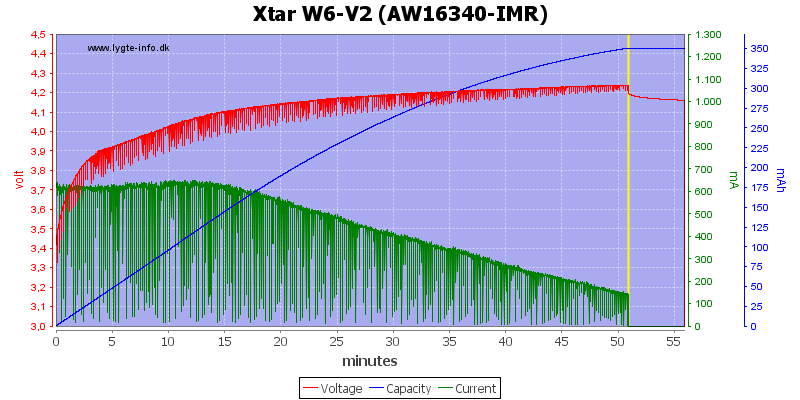 My old 16340 IMR cell. The charge current is just within range for 16340/RCR123 cells (IMR 16340 is no problem, they can be charger at 1.5 ampere).





A closer look on the current shows that the charger stops charging each time it want to measure voltage. This has the advantage that all connection resistance can be ignored and noise from the charger is eliminated.





The first curve did not show much noise in the charge current, but that was because I used a filter. Without a filter it can be seen that it contains a lot of noise.





With two batteries in adjacent channel the use of double current and only 50% of time charge time on a channel, can be seen on this scope trace. Current is on in about 2 seconds and off in about 2.3 seconds. Note: This switching between channels cannot be seen on the leds, they show a stable red light while charging.



Conclusion

The charger has a CC/CV like charge profile, the termination is not according to manufacturer recommendations, but works fine in practice. The support for long 18650 and included spacers makes this charger fine for 18650, 18500, 16340 and 14500 cells. With 6 channels it is possible to get a lot of cells charged in a reasonable time (Two 600 mA channels is faster than one 1200 mA channel when charging two cells). No charging at low voltages might give problems activating a tripped protection.


1. This charger can charge 6 x 14650/17670/18650/18700 batteries at the same time. It has six independent charging channels and has a three mode charging method.
When the voltage is below 2.9V (

±2%)

, the charger is in tr

ickle charge mode

,
When the voltage is 2.9V-4.1V (

±1%), the charger is in constant current mode

,
When the voltage is 4.1V-4.2V (

±1%), the charger is in constant voltage mode.

This charger can monitor the status of each battery in real-time when charging. The batteries are charged intelligently and safely by monitoring the batteries status.

2. When the AC adaptor or car adaptor is unplugged, the charger will turn to a lower current status automatically and each channel batteries' leakage current will be under 4uA.


3. When the battery voltage is 4.20 (±1%), the charging is complete, the current will cut off completely ( <100uA ). But the charger will continue monitoring the batteries in each channel.


4. When the batteries' voltage is down to 4. 05v (±1%), charging cycle starts again to keep the batteries in full charging status. When the batteries' voltage is down to 4. 05v (±1%), charging cycle starts again to keep the batteries in full charging status. Whe n the batteries' voltage is down to 4. 05v (±1%), charging cycle starts again to keep the batteries in full charging status.

5. The charger manager chipset will monitor IC temperature itself, when the temperature is too high, the current will decline in order to ensure the chipset works fine.


Some pictures: