FIN SEAC FUGA
A traditional style adjustable fin, soft and flexible guarantee high performance thanks to the double ribbing of the blade to optimize the channeling of the water. Ideal for use in schools and diving centers. Blade material: technopolymer • Shoe material: thermoplastic rubber
MASK CRESSI F1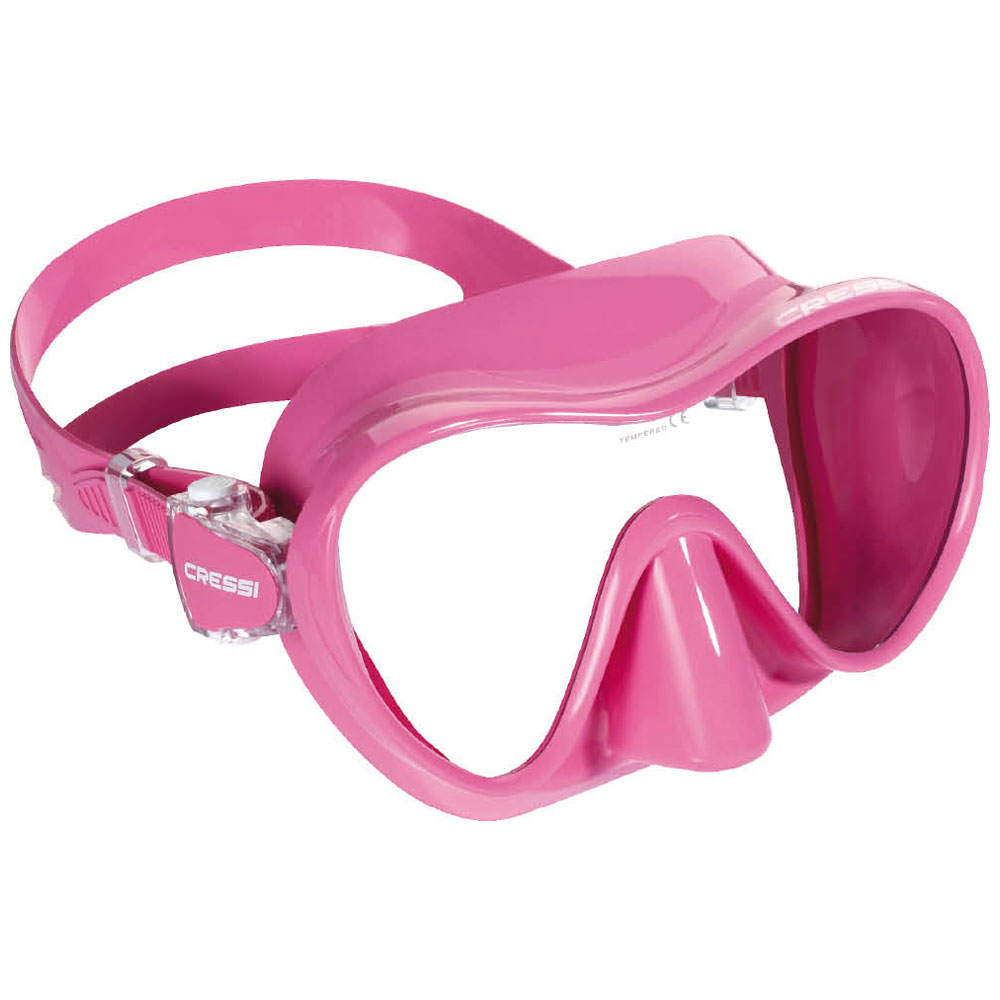 Frameless masks had their origins with technical divers, they wanted to be able to carry a spare mask with them while diving but masks with frames were just a little too bulky. The scuba industry has since moved from the technical realm into the everyday sport diving realm. One of the reasons for their popularity is that they take up so little room in luggage and gear bags. This makes them great for travel including the Cressi F1 Mask.
The Cressi F1 Mask is as simplistic in design as the name that it was given. This mask uses high quality black or white silicone in it's construction. The mask skirt is bonded directly to the single pane tempered glass lens. The buckle adjustment assembly is incorporated right into the mask skirt itself which adds to it's sealing capability. The buckle itself utilizes a single push button adjustment. The mask strap is replaceable and also uses high quality black or white silicone. The split style of the strap allows for a more personalized fit by providing equal tension for both the upper and lower portion of the faceplate. Having no frame makes the internal air space very low volume without sacrifice to your underwater field of vision.

SNORKEL CRESSI DRY
Snorkel Super-Dry Cressi
Di backup oleh Cressi yang telah menciptakan snorkel berkualitas sejak tahun 1946.

The special, buoyant, closing system at the top prevents water from entering to a great extent. The underside has a purge for easy draining. Hypoallergenic, silicone mouthpiece and flexible tube.
RASHGUARD CRESSI LONG FOR HER
This is our FOR HER collection in 2017. Our rashguards are built with a material that provides UV protection of 50+. The seams, sewn with flatlock stitching, won't leave marks on the skin. Perfect to wear underneath your suit and ideal for all kinds of watersports.
- For use as a thermal layer and/or UV and rash protection 50+ SPF- Protects you from sun rays
- NEW! CoolSkin² layer -- Dont worry about getting a heat rash during your tropical sunbathing. Our new CoolSkin² will get you free rash and keep it cool like you are just out of water.
- Smooth on your skin. Doesnt leave any marking after prolong usage.
- Lightweight and durable
- Can be worn by itself in warm water or under a wetsuit for added warmth
- Water repellant fabric
- Suitable for snorkling, diving and on-surface watersport (eg: surfing, sailing, riding jetski)
Rash guards can also be used for swimming pool session, and obviously undergarment (after wetsuit).
Warna Rashguard: Pink Salem/Putih
Rash guard size XXS panjang tangan 44 cm, lebar bahu 35cm, lingkar dada 68-71cm.
Rash guard size XS panjang tangan 48 cm, lebar bahu 39cm, lingkar dada 72-75cm.
Rash guard size S panjang tangan 50 cm, lebar bahu 42cm,lingkar dada 75-80cm.

SHORTPANT CRESSI RASHGUARD
ANTI GFOG CRESSI SPRAY
Anti-fog spray for dive mask / swimming goggles
Also works well with many visors
Helps against mask fogging / misting
60 ml - Now with 50% more solution!
Cairan anti-embun lebih pekat dari merek lain-nya!
NEPORENE MASK STRAP
BAG CRESSI DELUXE